Conditions relating to Flexible Life insurance
Flexibility in Life insurance is provided on the basis of a certain portion of the insurance being compulsory (i.e. the Core benefit portion) and the remainder being voluntary/optional (i.e. the Flexible benefit portion).
This means members of Sanlam Group Risk (SGR) policies providing this benefit may select additional levels of cover or change their existing levels of cover on a voluntary basis at entry and thereafter at certain pre-defined events:
This Flexible death benefit is over-and-above the Core benefit, and allows members to select or change their flexible cover as their individual circumstances and insurance requirements change over time, to best suit their unique needs.
The pre-defined events are marriage, birth or legal adoption of a child, or once per annum at a date as agreed upon by the policyholder and SGR (e.g. scheme anniversary).
Members may also reduce their flexible death benefit at the "once per annum" date.
To combat the unfortunate rising cost of insurance as a result of the impact of COVID-19, the following measures are implemented from 1 October for new business quotations:
In relation to the basic Core death benefit, the Flexible death benefit may not exceed a ratio of 1 to 3 (i.e. the Flexible death benefit may not be more than 3 times the Core death benefit). 
This means that the maximum relation that may be chosen is 1:3 (core : flexible) to reduce risk when exposed to high cover values.
The overall maximum multiple of salary for Core + Flexible death benefits is limited to 10 x salary. 
Employees may therefore select their Flexible death benefit according to their choice in multiples of 0,50 x salary up to the maximum multiple available for the specific age group, subject to an overall maximum of 10 x salary.
The age from which flex benefits are fully medically underwritten will change from age 55 to 50 years as result of evidence indicating a higher risk for older population groups as well as the possible presence of co-morbidities.
Click here to view the SGR nomination, application and registration forms.
Exit Cover: Funeral conversion option
Exit Cover allows an individual employee, who enjoys group funeral cover via SGR, to convert this group funeral cover to an individual funeral policy with Sanlam Developing Markets (SDM) in their own capacity when exiting from the employer's group funeral scheme. This means principal members (i.e. insured employees) have the option to take up individual funeral insurance for themselves and their spouses & children and extended family members (if applicable) at competitive rates, without being subjected to any waiting period.
In terms of Policy Protection Rule 2A.6 the waiting period must be waived (or reduced) should the member (i.e. employee) be able to prove they had a previous funeral policy with another insurer within 31 days preceding the inception of the new funeral policy.
Therefore, the employee can now convert his/her existing group funeral cover to an individual funeral policy, if he/she
is a member of a SGR group funeral policy, even if it does not include Exit Cover (funeral conversion option) as a rider benefit; or
can provide proof to SDM of previous funeral cover (with another insurer); and
was covered for a minimum period of 6 months under the existing funeral policy (with SGR or the other insurer).
The Exit Cover amount that can be converted, is limited to the group funeral insurance amount under the previous funeral policy and the option is available up to benefit cessation age.
Registering your Spouse for insurance
In our ongoing endeavours to streamline existing processes, SGR has reviewed its current beneficiary nomination and application forms.
A need for a separate Spouses Registration form was identified that will replace the Funeral insurance: Application form for immediate family members and the Spouse's Life insurance: Application form.
Why replace the previous application forms?
The purpose of the new form is to register the qualifying spouse when: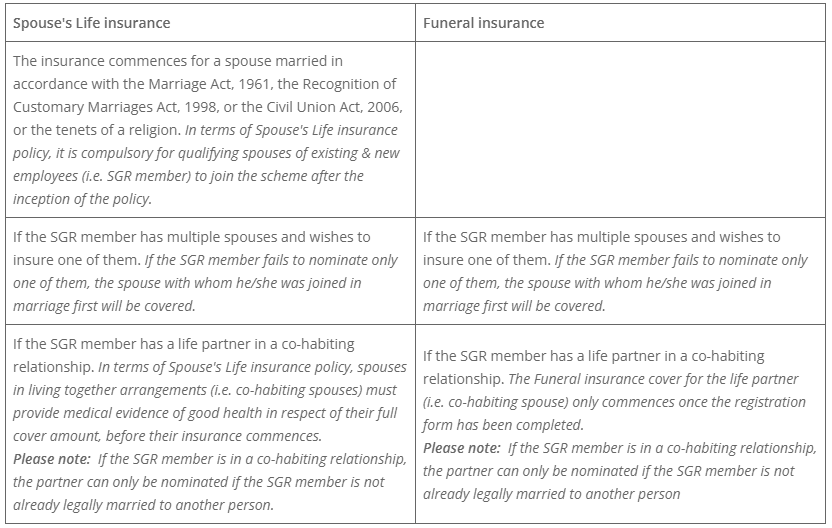 Who keeps the completed form on record?
Once a qualifying spouse has been registered, it remains in force as long as the SGR member is joined in marriage with the relevant spouse. A new Spouses Registration form must be completed if there are any changes in the information regarding the qualifying spouse.
Click here to view the SGR nomination, application and registration forms